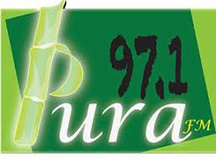 Experimente la mejor estación de radio con pura97.1 FM. Te traemos los últimos éxitos, entrevistas exclusivas y concursos apasionantes. Sintonízate y disfruta de un mundo de música como nunca antes.
Experience the best of music with pura97.1 FM, a leading radio station that brings you a diverse range of genres and artists. Tune in to our station and immerse yourself in the world of captivating melodies and soulful rhythms. Let the power of music transport you to a place of pure bliss.
At pura97.1 FM, we offer a range of services designed to elevate your business to new heights. From targeted advertising campaigns to customized sponsorships, we provide strategic solutions that help you reach your target audience effectively. Let us be your partner in success and unlock the full potential of your brand.
pura97.1 FM is a leading radio station dedicated to providing the best music and entertainment experience to our listeners. With a diverse range of genres and talented DJs, we strive to create a vibrant and engaging atmosphere for music lovers. Our mission is to connect people through the power of music and bring joy to their lives. Join us on this musical journey and let the melodies of pura97.1 FM brighten your day.
Tune in to the Pure Sound of Pura97.1 FM